It is the years of experience in in-house processing, expertise in application, and the unique combination of mold making and mechanical engineering that have cemented the HIRSCH Maschinenbau shape-molding machines' for processing EPS and EPP excellent reputation. Their precision steam consumption metering and the use of an insulated aluminum steam chamber enable the end products to be manufactured highly energy efficiently. As the technology leader in producing ICFs, HIRSCH guarantees particularly fast tool changes thanks to the package setup and an extremely high level of safety for the operators – not just in this area.
With its HS series of molding machines, HIRSCH is the undisputed market leader in shuttle and ICF technology. HS machines have the simplest, cleanest, automatic and free stacking unit. HS machines are the most user-friendly and energy-efficient on the market.
---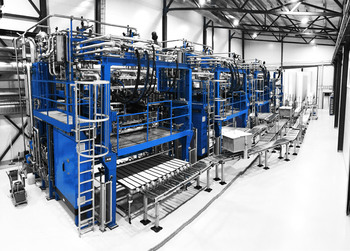 Thanks to the E-Drive, HIRSCH HC series molding machines are suitable for hygienic production (e.g. food or pharmaceutical industry) on the one hand, and for the production of perimeter and insulation boards on the other, thanks to automatic wall thickness adjustment.

---
HIRSCH molding machines of the HT series are particularly suitable for molded parts with inserts and helmets. Thanks to two independent stations, a parallel production process is possible and thus optimum cycle times can be achieved. An automatically closing safety guard guarantees highest safety at work.
---
---
HS Shape Molding Machines brochure
HC Shape Molding Machines brochure
HT8 Shape Molding Machine brochure
HEW 14F Shape Molding Machine brochure